Books coming in 2007:
coming in April 2007
Mama's Lemon Pie ~ a celebration of motherhood ~
coming in April 2007
coming in August 2007
* * * * *
2006 Releases:
My Books:
The Refiner's Gift coming in 2007
Love Notes:
Scottish Legend coming in 2007
Other Books:
* * *
Mama's Lemon Pie online version
Meet the
Shoosey-Q

Ever wonder how I came up with a name like Shoosey-Q for our sailing vessel? As a child, I hated to wear shoes (and still do). My father started calling me Shoosey when all attempts at trying to teach me to leave my shoes on failed. As I grew up, so did Pop's nickname for me. By the time I was fifteen, it had changed from Shoosey to the monstrous nickname:
Shoosey - Cuesey - Shmuckle - Roosey - Shmoo!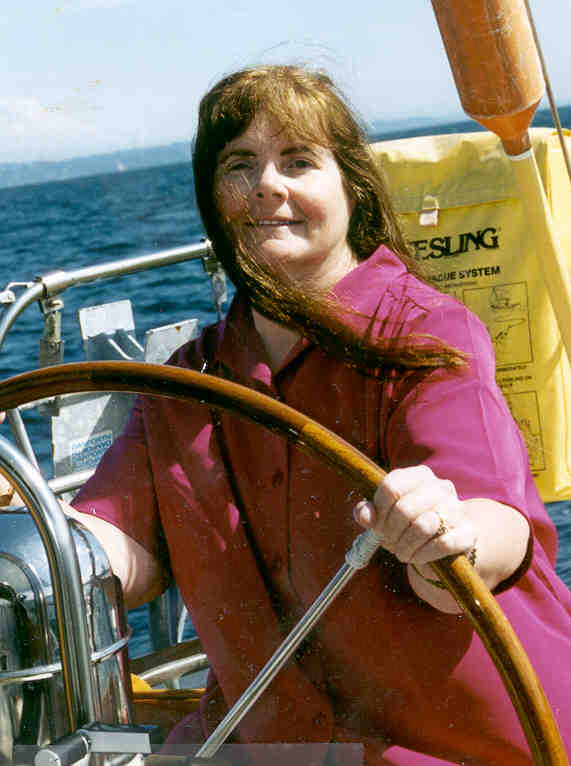 Desperate to change that horrendous name, I struck a bargain with my father: I would wear shoes, provided he shortened my nickname to Shoosey-Q. He agreed, but most of the time after that Pop called me his "little Shoosey." The last words my father said to me when I arrived at the hospital, shortly before he crossed the veil, were, "I love you little Shoosey. Thank you for coming."

I wasn't the only one Pop gave unusual nicknames. All seven of my living brothers and sister have their own special nicknames. My hubby and I carried on my father's tradition, and all of our descendants have nicknames, too, beginning with Tiger Joe, our first-born son, all the way down the line to Little Brenn, our twenty-seventh grandchild.

If you ever see the Shoosey-Q out and about in NW waters, I hope you'll say "Hello." Just hail me on VHF channel sixteen (16), and I'll go to a working channel for a nice visit.
Of course, my hair is highlighted with lots of silver now, so don't expect me to look quite as young as in this photo.
Sherry Ann Miller "writer of miracles".
Copyright © 10 Jan 2006 by Sherry Ann Miller. All rights reserved.
Webmaster: webmaster@sherryannmiller.com