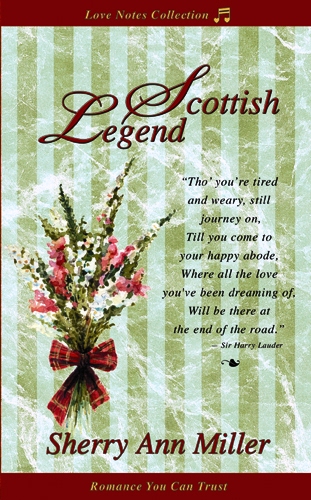 Scottish Legend
( coming in April 2007 )
Sherry Ann Miller's new novella, Scottish Legend, will whisk you from San Francisco to Great Britain and back again, taking your breath away in a fast-paced, action-packed tale of danger, intrigue and edge-of-your-heart romance. When legendary Scottish Lord, Robert Roy McLennan, meets FBI undercover agent, Jacey Munroe, disguised as Katie Chester (spoiled wealthy daughter of a man standing trial in America for treason and murder), he suspects there is more to Katie than meets the eye. To complicate matters, Jacey and Rob are drawn to each other like a flame toward oxygen . . . a situation Jacey cannot allow. Falling in love with someone you are deceiving while working undercover is not permitted in the FBI, regardless of what your heart tells you.

* * * * * * * *
Jacey quelled her temper, but she was certain some of it showed through when she hissed, ". . . I've been shot, shot at, abducted, kidnapped, my pilot was poisoned in order to crash my airplane, I had to smash up a BMW protecting your life, I went sailing off a bridge and was dumped into the River Tweed, and I nearly drowned for you."
"But, that's your job, Agent Munroe," Katie whimpered.

* * * * * * * *

Scottish Legend
Prologue:
"But, sir, when I signed on, there was no mention of undercover work," Jacey protested.
Director Stevens sat erect, his hands folded on his desk, poised as if considering a war strategy. "Like most agents, you were hired for primary skills that excel beyond the average person's, but those skills have nothing to do with where you are most needed. Because of your recent intense training, I think you'll adapt to your new assignment remarkably well, once you get used to the idea."
Jacey placed one hand on the desk and leaned forward, pleading, "Sir, I cannot stay here in Washington, D.C. It is imperative that I to return to San Francisco because my father is . . . ill."
"Your father is a drunk, Agent Munroe. Accept this assignment, and I will personally guarantee him a room in the finest rehab in the country, effective immediately. By the time you return to San Francisco, he'll be stone-cold sober and learning to cope with his addiction."
Jacey swallowed and considered the offer. She would have put her father into a rehabilitation facility years ago if she could have persuaded him. Somehow, she knew the Director would be far more convincing. "It is tempting, sir."
"Why do I hear a 'but' in that phrase, Agent Munroe?"
After biting her lip, Jacey confessed, "I'm not certain the agency should jeopardize such an important mission by sending me, sir. I've never been entrusted with an undercover assignment before."
"Agent Munroe," Director Stevens said, opening a file folder containing her application, test performance scores and review statements. "You're overqualified, if anything. You run four miles every day, your self-defense skills are quick and incisive, and you placed in the top ten in every test battery we've thrown at you. You have exactly the skills we need. Besides, you're almost a dead ringer for the Chester woman, right down to the long eyelashes. With contact lenses and a little hair-coloring, no one will be able to tell you apart, not even her own father." The Director pushed back from the desk. "Agent Carrington and his team will take you directly to processing, then accompany you to Scotland. You will be provided with around-the-clock shadowing the entire time you're in Galashiels. You leave immediately." He stood up, indicating the meeting was over.
Nodding in agreement, Jacey swallowed the lump of fear in her throat as she stood to face him. Giving him a hard frown, she said, "My opposition must go on my record, sir. My job description did not include undercover work when I signed on, and had I known beforehand, I may not have accepted my current position."
Director Stevens almost smiled. "When you return from Scotland, you can grow sugar beets, become a belly dancer or start your own crop-dusting service, none of which is my concern. Have a nice flight, Agent Munroe."
Jacey managed to reach the door without collapsing. To her dismay, a tall, lean man in a crisp business suit, accompanied by five strong-armed assistants, waited for her right outside the Director's office in the hallway.
"Lee Carrington," the man said, shaking her hand firmly. "Our plane is waiting, Agent Munroe. This way, please."
Scottish Legend
Chapter One
As the airplane began to cross eastward, over the Atlantic Ocean, Jacey entered the plane's small lavatory and stared in amazement as Katie Chester turned to face her. The resemblance between the two women was remarkable.
Katie gasped, then exclaimed, "Genius! Except for the eyes, you look exactly like . . . moi." Her voice had a nasal twang to it that amused Jacey.
"Give me your cell phone and your purse," said Jacey, ignoring what might have been a compliment. "And hurry. We mustn't take long exchanging clothes."
"Right down to business. I like that." The curly-locked, redheaded woman removed a forest-green leather jacket and matching short skirt, and handed them to Jacey. She also removed a light green tank top and gave it to Jacey.
In return, Jacey undressed and gave Katie her modest wool skirt and sweater, a dainty silk blouse and a pair of sturdy walking shoes. Then, Jacey pulled on the other woman's clothing, fastening the patent leather boots all the way up over her knees while tugging the short skirt down so she wouldn't feel so exposed.
With no elbow room, Jacey scrunched herself against the door where she waited patiently for Katie Chester to finish dressing, trying to keep herself from being bumped and jostled too much.
Katie Chester pulled a nylon net over her hair, securing her curly red locks against her scalp, and pulling them away from her face. Jacey assisted Katie with the adjustments on the shoulder-length, golden-brown wig she'd worn earlier, smoothing it over Katie's head, brushing the ends lightly to make the wig appear more natural.
They stared at one another in amazement. "Hard to believe you're not me," said Katie in a cocky half-smile. "If only Daddy could see me now."
"I trust you realize that preventing your daddy from seeing you at all is entirely the point of this mission," Jacey countered, wanting absolute certainty regarding the other woman's intentions.
"I know that, Miss Chester," said Katie, addressing Jacey by her new identity. "Let's hope he doesn't suspect anything before I testify against him. Otherwise, the consequences for us both could be . . . well, deadly."
* * * * * * * *
Watch for Scottish Legend
. . . coming in April 2007!
To be notified when Scottish Legend is available,
please send an email:
* * * * *
Sherry Ann Miller "writer of miracles".
Copyright © 10 Jan 2006 by Sherry Ann Miller. All rights reserved.
Webmaster: webmaster@sherryannmiller.com